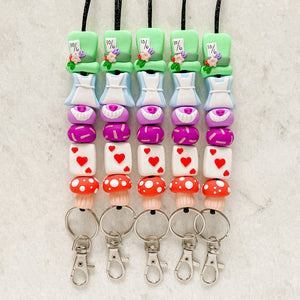 Our new Alice lanyards are full of detail! Writing on the Mad Hatter card will be sealed with a poly safe varnish to protect its longevity. Please handle with care!
lanyards are approx 21" in length and have breakaway clasps and silver findings. Lanyards are durable but not indestructible. Please hang when not in use. 


Colors sometimes vary slightly due to slight variation in clay lots. We make every effort to match colors as closely as possible. Every bead is handmade as carefully as possible with every effort to be identical but each bead is unique! 
Lanyards will come as shown and can not be customized or modified in any way.