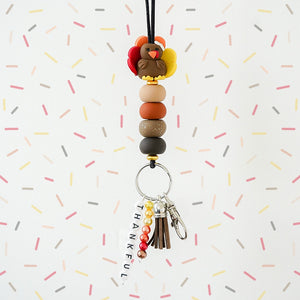 Final sale- fragile!

These darling Thankful Turkey specialty lanyards are cuter than ever before! Each one is sculpted individually with some beautiful fall toned clay beads underneath. 
Tassel colors my vary slightly based on availability. 
Lanyards are all made with a breakaway clasp, black cord and silver key ring and claw combination. 
Specialty lanyard topper beads can be fragile. Please handle with care and hang when not in use. Every effort is made to photograph items true to life, colors may vary slightly as all clay is mixed by hand.
Lanyards are approximately 21" long and sold as single items. Illy Lilly is not responsible for breakage due to usage after 30 day period. Thank you for your understanding.