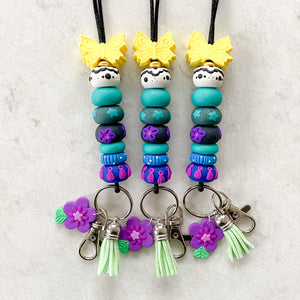 Encanto has enchanted us all with the beautiful colors and music. Our new Mirabel inspired lanyard is filled with the colors and motifs from her dress!

All lanyards feature satin cord, silver clip and key ring combo and a breakaway safety clasp closure. Clay charms may be sealed or glazed for increased longevity depending on design.
We recommend hanging lanyards when not in use and treating them like you would any other necklace. Beads are durable but not indestructible. Shaped beads with small parts are more breakable than classic beads. Do not allow beads to hit or swing into hard surfaces.

For more information see our FAQ page.
Lanyards are about 21" long unless otherwise noted.
*lanyards cannot be customized or modified in any way*